It's Hogmanay - the biggest Scottish festival of them all - so how better to mark it than with a countdown of the most notable deaths in Scottish history?
10. The Bonnie Earl o' Moray.
The 2nd Earl of Moray, if the ballad written in his honour is any guide, was considered one of the most handsome men in Scotland. This did not protect him from being pursued in a vendetta by the Earl of Huntly, who attacked him at his castle of Donibristle in 1592. As Moray received his fatal blows, one slashed him across the face, leading to his famous (and likely apocryphal) last words:

"You hae spoilt a better face than yer ain!"
9. Mary, Queen of Scots.
The brief and tumultuous reign of Mary ended in 1567 amid accusations she had plotted to kill her husband and marry his murderer. Had she not be a woman and a Catholic, she may have gotten away with it, but on fleeing to England she transferred her problems to Queen Elizabeth. English Catholics believed Mary, not Elizabeth, was legitimate heir to Henry VIII, leading to Mary's end on the chopping block in 1587 when she became implicated in a Catholic plot against Elizabeth's life. Her execution was trigger for the launch of the Spanish Armada. That invasion of England ultimately failed, but Mary had the last laugh: her son James VI inherited the English throne, and moved his mother's coffin to its magnificent final resting place in Westminster Abbey. En ma fin gît ma commencement indeed.
8. The Black Douglas.

Sir James Douglas was one of the great heroes of the Scottish wars of independence, right-hand man to Robert the Bruce. Loved by the Scots - to whom he was 'the good Sir James', his reputation was quite different across the border, where nursemaids crooned to their charges "hush pet, the Black Douglas shall not get thee." After the death of the Bruce, Douglas was tasked with taking the Scottish king's embalmed heart to the Holy Land to battle Muslims. En route, he found himself fighting on the Christian side at the Battle of Teba in Andalucia. Legend has it that on becoming outnumbered and surrounded, he flung the Bruce's heart before him shouting:
"Lead on, brave heart, as thou were ever wont to do!"
The Black Douglas has one of the most iconic deaths in Scottish history. Just a shame the story of his final moments cannot be verified by any contemporary source.
Image courtesy of Andrew Spratt
https://twitter.com/andrewsp2009/status/1052640564896813056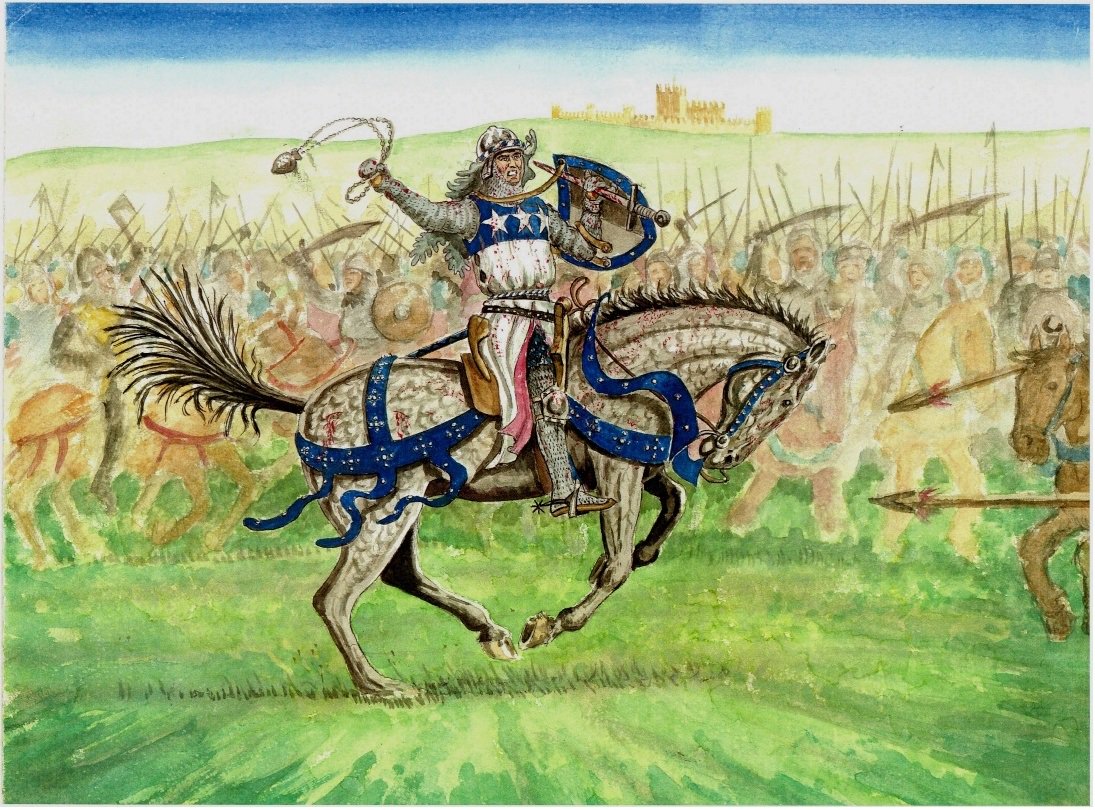 Will Douglas' be the last legendary end, or did the mythmakers get their hands on other historical figures?
Find out after the bells when the countdown is continued...